Affordability?...
Costs & Calculators
Affordability?...
Own or Rent?
It's usually better to purchase property than to rent. If you are renting, consider this: -- is your rent lower than the average? --are you planning on moving in a few years? --is the housing market out of reach for your situation? --are you getting better returns from whatever you're investing your cash into? Here is a simple calculation: take your monthly rent and multiply by 240. If you can purchase property for less than that, then purchasing would be usually better on the long-term. Note: Everyone's situation is different therefore, you must seek the expert advice of a financial consultant and/or accountant to answer for your specific situation. For a Mortgage Advisor, contact me. Advantages of Owning a Property: It's yours!--Usually a hme is larger than an apartment.--It improves your credit rating.--Owning a property is one of the best investments.--You now have an asset! Know Where You Stand:
To qualify to purchase property, involves two primary factors: 1. Down Payment; 2. Mortgage Qualifications.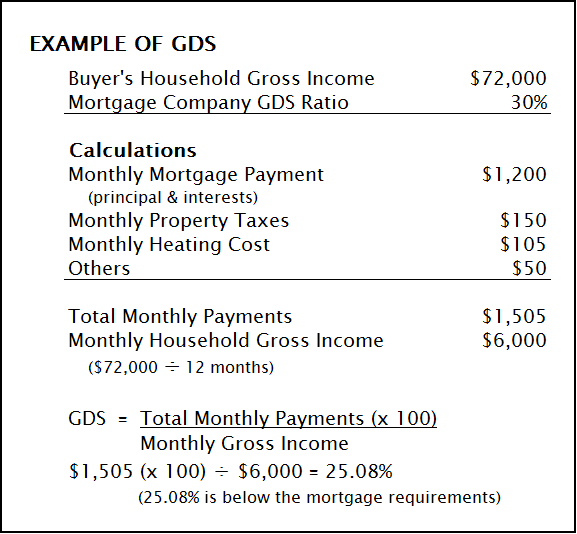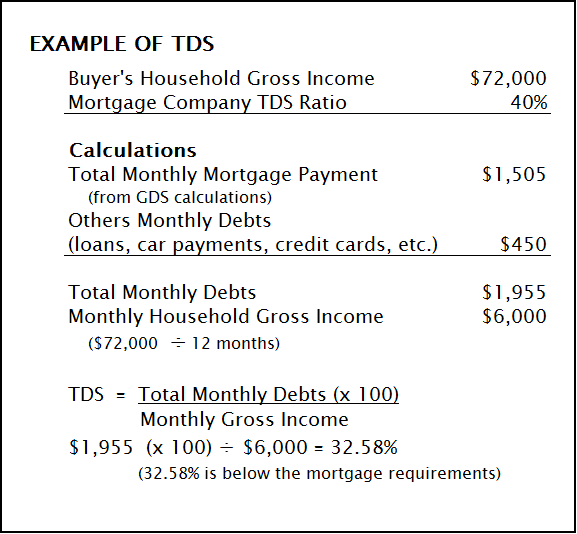 Note: GDS and TDS may vary from various financial lenders.
Conventional Mortgage: The term conventional mortgage refers to a mortgage that does not carry any form of high-ratio or lender insurance premium. The limit is a percentage of the value of the property. This percentage does not exceed 80% of the purchase price of the home.
High Ratio Mortgage: Mortgage whose amount is greater than 80% of the home's appraised value. These mortgages must be insured for payment. CMHC (Canadian Mortgage Housing Corporation) a Government Agency provides mortgage loan insurance for high ratio mortgage. Genworth Financial Canada is the leading private sector supplier of mortgage default insurance in Canada. Its purpose is to make home ownership more accessible for first-time home buyers. For more information please visits these websites: Canada Mortgage and Housing Corporation - www.cmhc-schl.gc.ca and Genworth Financial -

www.genworth.ca

.

Pre-Approved Mortgage Certificate: This certificate secures a mortgage amount at a guaranteed rate for a specific length of time. This important certificate allows you to shop confidently and provides you with security of negotiating a house price within your budget. It also indicates to the seller that you are a serious buyer.
Home Buyers' Plan & RRSP: For first-time buyer, this program allows you to withdraw funds from your Registered Retirement Saving Plan (RRSPs). You can withdraw up to $25,000 for the home purchase or build a qualifying home for yourself. This withdrawn amount must be repaid within 15 years, subject to conditions. For more information contact Canada Revenue Agency - www.cra-arc.gc.ca.
Harmonized Sales Tax (HST): The general rule is: "supply" of real property in Ontario is subject to HST. Certain sales of real property can be exempt from HST: re-sale home of an individual's personal residence and the resale of rental housing where the residential complex was held for the purpose of earning rental income. Re-sale homes are detached house, semi-detached house, row house, apartment building, residential condominium unit, mobile home, and floating home. Used residential complex are not always exempted of the HST. Under certain circumstances if the seller of the real property has claimed tax credit either for the last acquisition of the property or for an "improvement" to the real property, such sales become taxable. Therefore HST must be charged to the Buyer. HST applies to moving cost, legal fees, inspections fees, and real estate agent's commissions. New housing or substantial renovation of homes is subject to HST. Buyers of new homes will receive a provincial rebate of the HST up to $24,000 regardless of the price of the new home. For more information on HST, contact Revenue Canada Agency, at www.cra-arc.gc.ca for your specific situation or contact me

.

Good Credit: It is important to have good credit especially when you want to obtain loans, and mortgage financing. Your personal credit history is compiled by credit bureaus by collecting information from various sources such as credit card companies, debit cards, type of accounts at financial institutions. Usually a credit history goes back approximately 7 years. This report indicates to lenders information about you such as marriage, divorces, liens, judgements, bankruptcies, etc. Your credit score indicates to lenders your judgment about your financial health and credit rating indicates to lenders how you pay your bills, on time, late or never. Keep on top of your credit ratings by contacting Trans Union Canada - www.transunion.ca and Equifax Canada - www.equifax.ca. A good credit score means you could pay less with lower interest rates on mortgages, credit cards and auto loans.